Hi Amer, can you tell us a bit about your background, why you are in France and how you got here?
I was born in Damascus, Syria where I studied economics at the University of Damascus.
I started to produce experimental short movies on my own with the available means. My artistic work has also been nourished by other practices : after having been a professional gymnast from 1994 to 2002, I shifted toward contemporary dance and theatre performance in the late 2000's. I participated in many Arabic and international festivals between 2005 and 2011, all while directing and self-producing my own theatre plays and performances. Later specialising in Capoeira, I was a consultant for the association Bidna Capoeira in Damascus and Raqqa.
When and where did you start capoeira?

My passion for capoeira began when I watched the movie « Only the strong » when I was doing gymnastics in Damascus, and I found it a super sport for me to combine fighting movements and acrobatic movements, in addition to my love for music, I decided to search, but unfortunately there was no capoeira in Syria until 2007 when Tarek Al-Saleh (German-Syrian) brought the game to Damascus, Tarek established an institution for teaching capoeira, especially for children, and refugee children from Iraq and Palestine in Damascus, I was one of the first assistants and founders of this project, which continues until now.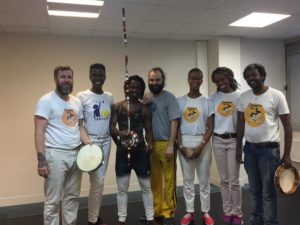 Today you are a member of the Oyà association and a student of Ngoma Capoeira Angola, how did you meet the association and the group?
2018, Oyà was conducting capoeira training at the l'atelier des artistes en exil Paris , when I heard the music coming out of the dance room, I ran there to meet Stéph and Aline and start training with them to this day.
How do you include capoeira in your daily life?
In addition to my daily work, which is to give online exercises to the Capoeira organisation in Raqqa in Syria, to complete the capoeira project that I started in this city in 2013. My love for music drives me to practice playing musical instruments almost daily.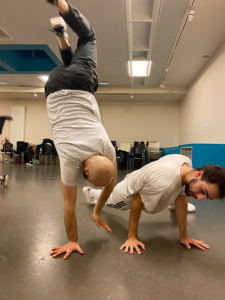 What does capoeira and more particularly capoeira angola bring you?
Capoeira Angola, opened up a new horizon for me about my conception of this sport.
Back to the beginning, classic and original. The introduction of traditional dance within the game also gives a glamorous character to this rich sport.
Do you think capoeira can be an escape or even a help for people in exile? If yes, why ?
I do not want to tell my long story with displacement and war, but in short, capoeira has always been and remains my great saviour.
Wherever I visited in my life during my trip, Turkey, Lebanon, several cities in France, I always felt that I had a hidden weapon with me, to fight loneliness, and your personal fears, and to give hope for continuity despite difficult circumstances, because it is not just a sport and this is the magical thing about capoeira.
———————————————————————————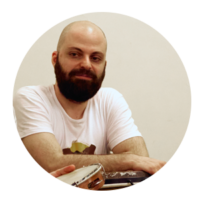 Amer Albarzawi was born in 1987 in Damascus, Syria.
After having been a member of the National Syrian Gymnastics team, he shifted his focus towards dance and performance.
He participated in many Arabic and international festivals between 2005 and 2011, all while directing and self-producing his own theatre plays and performances.
Later specializing in Capoeira, he was a consultant for the association Bidna Capoeira in Raqqa (Syria), Beirut (Lebanon) and Istanbul (Turkey), where he also received production funds from Bidayyat for Audiovisual Arts to direct short films, such as Fade to Black (2015) and Yaman (2015), which he directed with Majooneh, a group of young syrian artists that he founded. Both films shed light on the reality of many Syrians during the past decade using stop motion and pixelation. They both participated in film festivals across the world.
In 2017, Amer arrived in France for an eight-month art residency with Programme Nora, and then became a member of the Programme d'Étudiant Invité of the École nationale supérieure des Arts Décoratifs (ENSAD). He now continues directing films related to his
experience of exile, alienation and the loss of memory.
In 2022 he was accepted at school Le Fresnoy – Studio national des arts contemporains.
Bientôt
Em breve